Written on March 10, 2022
Data has become an essential element in the management (strategic or operational) of any companies, or administrations. It can take many forms, and be more or less abundant: "big data" is becoming more and more common. The extraction and processing of data must be simple and fast so that it can be used effectively.
The sources of the data are multiple: it can come from public or private organisations (INSEE, Central Banks, OECD, Bloomberg, Reuters, private banks, professional unions, etc.). It can come from national, foreign or international institutions. It can be internal to the company (customers, counting, etc.). It may be accessible to everyone free of charge (open data), subject to payment, with restricted access or confidential. The data can have many formats (JSON, CVS, XML, etc.), and frequencies ranging from "high speed" (in seconds) to daily, weekly, monthly data, etc.
Our  Green Digital Factory (GDF)
dataLearning offers a "Digital Factory" service to complement or replace the client's internal system information (SI).
This offer is "Green", as it is backed by Neutral-IT's eco-responsible data centres, whose waste heat is used to heat the water in the host buildings (by design, their PUE is extremely low), and whose servers are second-hand, which makes it possible to significantly reduce their carbon footprint.
The different stages of our Green Digital Factory are :
    I] Data Collection
Data entry: data entered manually by a person in the company
Emails
Data capture: data automatically retrieved from the company's various media
Retrieval of internal data or data flows within your company via an API, internal sensors, industrial robots, IOT, customer databases, etc.
Acquisition of data external to your company via an API (paid services such as Bloomberg, Reuters, … or open source)
The recovery of data requires the consent of the persons concerned and is limited to those necessary for the set objective.
II ] Storage
Storage of data on our servers (structured or unstructured data)
Backup and archiving

The data is stored on encrypted media, with secure access through firewalls, protocol rupture, authentication by AES or ECC key and network isolation.


III] Information processing
Data cleaning, data wrangling
Organisation of information, combining available data to create new information, based on machine learning and artificial intelligence.
Use of different analysis tools such as Machine Learning
The distributed infrastructure is particularly effective for parallel data processing and distributed computing.
This is because data can be split up into different physical media and pre-processed by local processors and then brought together for final processing. In this way, the processing power of all the storage nodes is put to use, optimising the speed of information processing.
IV] Backup of results
Saving and copying the results of data processing in a secure environment.
V] Information distribution
Restricted access to online dashboards
Information sharing via email / document alerts directly usable
The tool allows the company to obtain a dashboard that will help it in its operational and strategic decisions.
The data can, if the user wishes, be used in all the usual data processing software (Excel, R, Eviews, Stata, Statistica, etc.).
VI] Deleting data
Archiving, anonymisation, deletion of unnecessary data
The Green Digital Factory allows the client to increase productivity, optimise decision-making, while contributing to the development of a responsible digital environment. The CSR of companies benefits directly from the use of our solutions.
An example of visualisation using the Green Digital Factory
In this example, we process data from DREES on the vaccination status of COVID-positive individuals.
The original data is available on the website
https://data.drees.solidarites-sante.gouv.fr/explore/dataset/covid-19-resultats-issus-des-appariements-entre-si-vic-si-dep-et-vac-si/ 
Our robots collect the data daily at 5pm and store it in our databases in accordance with their user licences. Once the data is extracted, we can easily make a first visualisation like the ones below: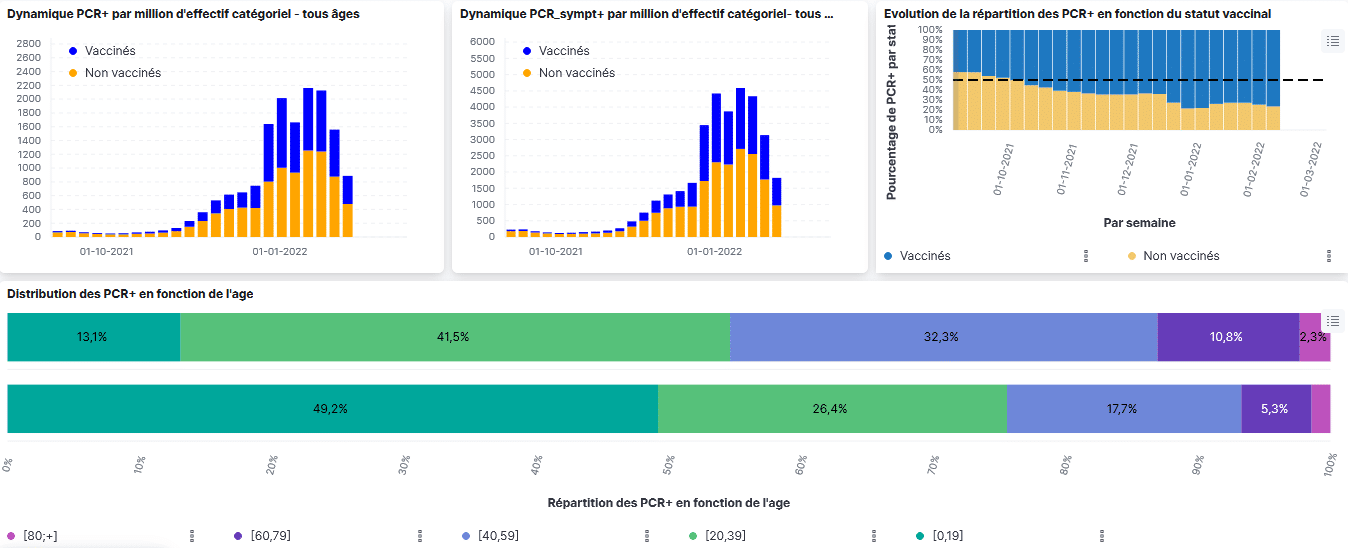 For interactive use or any questions, contact us using the form below and request your free access to demonstrate GDF's capabilities.